Register your place for the next Artha Forum event – please call/message +917045340645 to RSVP
The Bottom Line Is The Business Purpose Cannot Only Focus on The Bottom Line !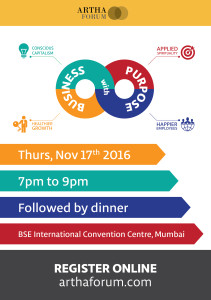 H. H. Radhanath Swami
Spiritual Leader and Author of New York Times Bestseller – The Journey Within and International Bestseller – The Journey Home
Ashish Chauhan
CEO – Bombay Stock Exchange
Ajay Piramal
Chairman, Piramal Group and Shriram Group
Date:
Thursday, November 17, 2016
.
Time:
7 pm to 9 pm
, followed by dinner.
Venue: BSE International Convention Centre, Mumbai. RSVP : +917045340645
The sole business purpose of most companies is profit. And from one perspective it's correct. However, if business houses make their business purpose a bit more inclusive it can hugely impact their bottom line. For example, including customer satisfaction builds brand loyalty. Or including employee happiness increases productivity. So strange as it may seem, companies with a purpose beyond money tend to make more money.
At Artha Forum, over 250 business professionals and entrepreneurs will amalgamate to hear, discuss and debate with insightful minds like H. H. Radhanath Swami, Ajay Piramal and Ashish Chauhan. Their combined experience as leaders will guide us towards a business ethos that blends integrity and compassion, which leads to commercial success and a happier social environment.
Earn with integrity. Spend with compassion.