Artha Forum
@ Mumbai, 2013
Saturday, 20 July 2013 – Mumbai
[slideshow id=3]
Address To Entreprenurs And Business Leaders
Artha Forum is an online community dedicated to connecting spirited entreprenreurs, professionals and family offices and bringing to them the relevance of ancient wisdom literature in contemporary buisness. Artha forum is an independent not-for-profit initiative supported by Basil Growth Corporation.

Hrishikesh Mafatlal, Vice Chairman and Chief Executive of The Arvind Mafatlal Group of Companies.
An Artha Forum mini-event held at Bhaktivedanta Hall, Sri Sri Radha Gopinath Temple, ISKCON Chowpatty, Mumbai, on Saturday, July 20, 2013 and attended by 75 prominent Industrialists, Entrepreneurs, Business Owners, Investment Bankers, Journalists, IT Professionals, Home Office Executives, Social Reformers, HNIs and NRIs and budding next generation family managed business heirs.
H.H. Radhanath Swami's Address to Entrepreneurs and Business leaders- Our fulfillment in life is not simply in what we can get, but in what we can give.

H.H. Radhanath Swami addresses the audience – seen in the forefront are Ajay Piramal, Chairman,
Piramal Group, Dr N.D. Desai, Chairman, Apar Group and other distinguished guests
It had been raining in Mumbai for days. On this particular Saturday, it got worse. Mumbai was inundated by a rainy deluge adding to the traffic woes. It was amazing to see that 98% of the guests showed up for the event, braving the rain and bumper-to-bumper traffic. Some of the guests drove for over two hours through water-logged streets, braving the inclement weather, to reach the South Mumbai venue. We were touched by their resolve to be present for the event and to hear Radhanath Swami.

Radhanath Swami spoke on 'What to learn after you know everything about everything'
Distinguished participants included: Mr Ajay Piramal, Chairman, Piramal Group, Dr N.D. Desai, Chairman, Apar Group, Mr Hrishikesh Mafatlal, Vice-Chairman and Chief Executive, Arvind Mafatlal Group, Mr Amit Chandra, Investment Banker and Managing Director, Bain Capital, Mr Sanjay Shah, Director, Anchor Group, Mr Kushal Desai, Managing Director, Apar Industries, Mr Sunil Sanghai, Managing Director, HSBC Bank, Mr Prashant Shetty, Managing Director, IDFC, Mr Vidur Bhogilal, CFO, Datamatics Group, Mr V. Giriraj, Principal Secretary NREGA and Water Conservation Department, Mr Navneet Munot, Chief Investment Officer, SBI Mutual Fund, Mr Dnyanesh Pandit, Senior Partner, Ernst and Young, Mr Abhishek Karnani, Owner, Free Press Journal, Mr Anil Biyani, Managing Director, Damodar Threads Ltd and Mr Bijay Sahoo, HR Head, Reliance Retail, Mr Rajesh Jogani, Builder, Mr Ashok and Ramesh Nahar, Real Estate Developers, Ms Madhoo Shah, Film Actor, Mr Anil Agarwal, M.D. Vinod Steel, Mr Ganesh Krishnamurthy, Global Head, Sutherland Global Services, Mr & Mrs Ganesh, Senior Managers, Deutsche Bank, Mr Bharat Shah, Chairman, Alliance Group, Mr Kamal Soni, Investment Banker, Mr Ajay Mehra, Investment Banker& Partner BMR Associates, Mr Radhakrishna Pillai, Author, best seller "Corporate Chanakya," Ms Rachita Dhuru, Sr Criminal lawyer, Mr Chandresh Ambani, CEO, Plexitech, among others.
Radhanath Swami seen with Ajay Piramal, Chairman, Piramal Group and
Dr. N.D. Desai, Chairman, Apar Group
Dr Radha Krishna, Chairman, Annamrita Foundation With Navneet Munot, Cio,
SBI Mutual Fund and Anil Biyani, Managing Director, Damodar Threads
Kushal Desai, Managing Director, Apar Industries In Discussion With Karan Shah And
Sanjay Shah, Director, Anchor Group
Ashok Nahar, Real Estate Developer and Noopur Desai, Director,
Annamrita Foundation Chat with Madhoo Shah, Actor, Bollywood (seated)
Before the keynote address by Radhanath Swami, Mr Hrishikesh Mafatlal, recollected Radhanath Swami's wisdom he heard years ago, "God does not see what you give; He sees what you hold back". Mr Mafatlal has known Radhanath Swami for over twenty eight years now, and he explained how over the years his understanding of charity underwent a substantial change, "Thanks to Radhanath Swami's friendship, I now realize that charity does not include only money. It's a matter of awareness, our thinking, our time, all our efforts, and certainly whatever privileges and background we have". He confessed, "Our goal since then has been to carry out the projects in such a way that after taking care of our minimum needs, we can do the maximum to society."
Prashant Shetty, (left) M.D. IDFC in discussion with Singapore Based Artha Forum Sponsor,
Rajeev Srivastava, Managing Partner,
Basil Growth Corporation, along with Chaitanya Desai, Director, Apar Industries (center)
Anju and Sameer Kanodia, Director, Datamatics in discussion with Radhanath Swami
Sameer Kanwar, General Partner, Basil Growth Corporation with Sanjay Shah,
Director, Anchor Group
Sanjiv Maheshwari, CFO, Basil Group, ushers in Mrs Maithili and Dr. N.D. Desai
Mr Hrishikesh Mafatlal's speech was followed by a brief overview of Annamrita Foundation, the wonderful Mid-day Meal scheme that feeds over 1.2 million hot, tasty, wholesome and nourishing free meals to school going children in eight states of India under the Government of India aid program. Ms Noopur Desai, Director, Annamrita Foundation, gave an inspiring extempore speech to the audience and highlighted some of the achievements of Annamrita Foundation, which has won dozens of awards throughout the country for its amazing contribution to society.
Rajeev Srivastava, one of the founders of Basil Capital and with twenty years of global experience in investing in IT and IT Enables Services, shared the wisdom he learnt from Radhanath Swami, "The turning point in my life was in 1996 when Radhanath Swami guided me 'Make sure that whatever you do, there is no greed or pride.' Rajeev expressed that since then, he and his friends Kushal Desai and Sanjiv Maheshwari, pledged 50% of the profits to social initiatives inspired by H.H. Radhanath Swami.
Rajesh Talwar, President, Artha Forum, presented the case study of Apar Infotech, an IT Company Co-founded by Rajeev Srivastava and Kushal Desai, head quartered in Pittsburgh, PA, USA. Essentially the message depicted how charity must be built at the core of the business model. Speaking on wealth creation and sharing, based on the teachings of Radhanath Swami, Rajesh mentioned that for wealth to grow and give happiness, it must be shared for common good. If business is done without greed and pride, and without being implicated in sin, it will last for generations to come. He shared his realization, "I have been lucky in life to be guided by Radhanath Swami for over thirty years."
Dr N.D. Desai, in conversation with Bharat Shah, Chairman, Alliance Group,
and his sons Jay And Hrishikesh Shah
Attendees engrossed in listening to Radhanath Swami's Keynote Address
Amit Chandra (foreground) M.D. Bain Capital and Surendra Srivastava,
National General Secretary, Lok Satta Party
Amrita and Vidur Bhogilal, CFO, Datamatics, greeting Radhanath Swami
Key Note Address By HH Radhanath Swami
In his address Radhanath Swami contrasted the titillating sensual gratifications with the experience of real fulfillment earned from service. "The nature of flickering gratifications on bodily, sensual and mental level is the more you have, the more you need. It's like fire; the more fuel you put, the hotter, bigger, and hungrier it gets. And that's the way it is with wealth, power, prestige and all sensual pleasure." He explained how these things can't touch the heart whereas a rich inner life where we find the treasure of love within ourselves naturally manifests as compassion towards other living entities. "Whether we are little swamis travelling all over without any resources or we are farmers, businessperson, politicians or billionaires, all are wonderful when we are united with the right, fulfilling motivation behind our activities."
Radhanath Swami presented a spiritual perspective to our occupations; "When we connect with God's love, we recognize the sacredness of our lives. And that is our natural state. When we tune-in to that divinity, then we'll naturally feel genuine compassion for others. And then our fulfilment in life is not simply in what we can get, but in what we can give."
He appealed that if we are motivated by compassion and see the needs of the suffering world, we'll truly understand that we are all one family and are God's children. Then we'll be motivated to make a difference in this world through our character, integrity and our efforts.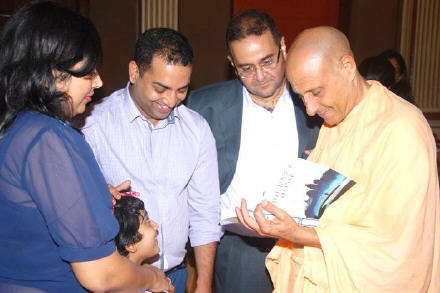 Radhanath Swami signing autograph on his book " Journey Home", for Mr And Mrs Raviraj Jayaram,
Chief Manager, International Business, Times Of India
Guests at the post-event dinner
The program ended with "The Journey Home" book signing by Radhanath Swami and a banquet dinner for the guests.
ACKNOWLEDGEMENTS
We wish to express our gratitude to H.G. Gauranga das, Vice-President, Temple Presidential Board and the team of dedicated contributors for the stage management, audio and video services, photography and overall management for the event. Artha Forum sincerely appreciates the help received from Media Services of the Sri Sri Radha Gopinath Temple, ISKCON Chowpatty.
Special Thanks to Govinda's Catering Service for the catering and decoration arrangements.
Artha Forum wishes to acknowledge the wonderful efforts of Ms Ruchi A., Program Director and the dedicated team of Basil Growth Corporation, Nishant Khadria, Associate Partner, Naresh Jethwa, Sachin Shinde and Sachin Makhare.
For more information on Artha Forum past and forthcoming events, please contact: Ms Ruchi A., Executive Director on M: +91-98333-54036 or write to
ruchi@arthaforum.com

Click here for picture gallery